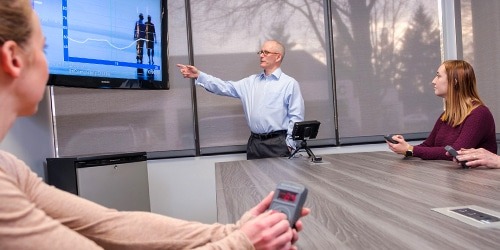 06 Feb

Welcome to Engagious—Research-Driven Content that Resonates
We like to get inside people's heads.

That's how we measure emotions and visceral responses to develop winning messages for our clients. Yes, there is a definitive way to know what language will work—without resorting to speculation.
Rich Thau of Presentation Testing, and Dave Paull of Dialsmith, have been perfecting messages for years. Rich and his team have long relied on Dave's expertise and technology to help clients discern what to say and how to say it.
Now they're formalizing that partnership with a new venture: Engagious.
Engagious combines Rich's toolkit for high-impact messaging—dial-testing focus groups, in-depth interviews, behavioral and social psychology research, and an eye for a story—with the skills of Dave and his team, the designers of the latest analytic technology. We spoke with David Paull, Co-founder, to get his take on the partnership.
So in this meeting of the minds, this complementary coupling—Tell me what this means.
Engagious is very much a 1+1=3 venture. When we first started talking about this we challenged ourselves to come up with ways to bring greater value to our clients than either of our companies have done on their own. My experience is in tools and technologies for learning what people think in the moment, as they think it, before memory bias and groupthink set in. Rich's experience is in using those tools, as well as his years of messaging expertise and intuition, to learn what will resonate with people, what won't, why, and how to craft and deliver a winning message. In the end it was a natural fit.   
You've both been highly successful founding and building your own companies. Why join forces? Why Engagious? Why now?
We each certainly could have kept doing what we were doing. But we both felt that something was missing in what we could offer our clients. Rich's primary focus has been on messaging around public policy and issue advocacy. While he has worked in advertising, entertainment, corporate messaging, and litigation consulting, those were never his primary focus. Our dial testing technologies are regularly used across all of those verticals and more, but we've never had the ability to offer end-to-end study design, execution, analysis, and reporting. By joining forces we expand our offerings and provide clients with much greater value.
What's going to change?
Our offerings will become much more scalable and efficient. With offices on both coasts—in Portland and New York—we can cover the country with more regionalized staff. We can also expand our full service offerings with in-person qualitative, online qualitative, and online quantitative research—or whatever combination best fits any given project. We're also going to be more of a one-stop-shop for many clients who previously had to bring together multiple vendors to execute a study.
What's going to stay the same?
One of the reasons this venture was a relatively easy decision is because Rich and I have very similar sensibilities and focus on the success of our clients and well-being of our team members. We will remain unwavering in our commitment to deliver the highest quality work and provide a top-notch place for our team to do their best work.
How will this affect your clients?
Only in positive ways, we believe. For clients that continue to only need what each of us have always provided, we'll be more than happy to continue the relationship in just that way. For those that will benefit from our full services and technologies under one roof, we'll bring that to the table. 
If you are interested to learn more, please reach out to us. We are always happy to chat.
Welcome to Engagious!
Check out our Podcasts:  iTunes | Google Play